John F. King
Georgia Insurance and Safety Fire Commissioner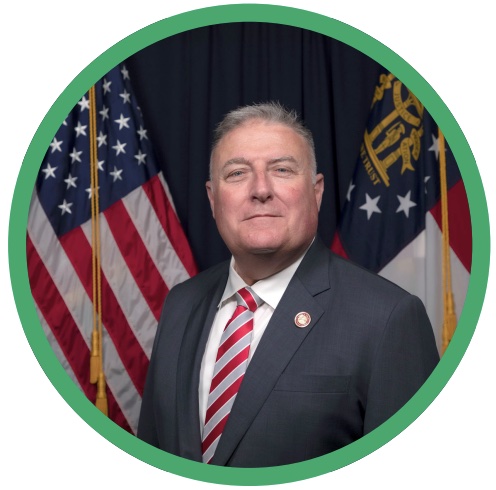 John F. King was sworn in as Georgia's Insurance and Safety Fire Commissioner by Governor Brian Kemp on July 1, 2019, becoming the first Hispanic statewide official in state history. He was elected to a full four-year term on November 8, 2022.
Before becoming Commissioner, King spent his career in law enforcement, beginning as an Atlanta police officer in 1985 and culminating as Chief of Police for the City of Doraville. While at the Atlanta Police Department, he worked various assignments including Red Dog, Organized Crime/Intelligence, and received the Chief's Blue Star in 1987 for being injured in the line of duty as a result of a criminal attack with a firearm. His career also includes assignments to both FBI and DEA as a Task Force Agent.
A native of Mexico, King made a meaningful impact by building bridges among Doraville's diverse populations and implementing youth education and crime-prevention programs in his role as Chief of Police. Recognizing the international composition of Doraville's community, King made it a priority to hire bilingual police officers, place multiple languages on police cars, and ensure effective translators and public defenders were employed at the City Courthouse. Commissioner King's initiatives include Anti-Gang education programs for elementary school students and parents. He worked with the Hispanic Chamber of Commerce to establish an education program for prospective small business entrepreneurs and worked with state, county, and local leaders to implement a safety and speed reduction program targeted to Buford Highway to reduce the number of pedestrian fatalities. Commissioner King is also a member of Leadership DeKalb.
In addition to his former roles in the Atlanta and Doraville Police Departments, King retired as a Major General in the U.S. Army following his final assignment to NORAD and U.S. Northern Command. King was the former Commander of the 48th Infantry Brigade Combat Team and has deployed to Bosnia-Herzegovina, Iraq, Afghanistan, and Africa. He served as the Military Advisor to the Deputy Minister of Interior for Security for Afghanistan, who oversaw an agency of over 96,000 police officers.
While serving on Active Duty and the National Guard, King earned numerous awards for his achievements. King received the Combat Action Badge for his service in Iraq and the Combat Infantry Badge for service in Afghanistan. Other awards and decorations include Legion of Merit, Bronze Star (2) Award, Meritorious Service Medal, Joint Meritorious Unit Award, Afghanistan Campaign Medal, Iraq Campaign Medal, El Salvador Gold Medal for Achievement, and the Afghanistan Barial 2nd Degree Medal.
King received his Bachelor's of Arts degree in criminal justice and public administration from Brenau University and a Master's Degree in Strategic Studies from the U.S. Army War College. He graduated from Harvard University Senior Executives in National Security and Syracuse University National Security Decision Making Course. Commissioner King was a graduate of class #229 in the FBI National Academy in Quantico, VA, and also a graduate of the Georgia International Law Enforcement Exchange program to Israel (GILEE).
Commissioner King is also fluent in Spanish.