About GeorgiaAccess.gov
There are currently 1.3 million Georgians without health insurance. That's too many of our citizens left to worry about finances when they're impacted by a medical concern — and it doesn't have to be that way.
During the 2019 legislative session, Governor Kemp and the General Assembly championed and passed the Patients First Act, which included a waiver to allow Georgia to offer private insurance coverage in a new state-operated model. While the State is unable to offer the original model as a way for Georgians to enroll in coverage through private carries and web brokers during Open Enrollment 2023, the State is excited to launch GeorgiaAccess.gov as an informational website to help consumers navigate and understand their health insurance options. It's where Georgians can come to get covered and get healthy.
Whether you've been worried about the cost of health coverage, your circumstances have recently changed, or you just want to understand the advantages of health coverage, we can help. Here at GeorgiaAccess.gov, you can easily connect with the resources you need to find affordable private and public healthcare options. It's part of our ongoing commitment for all citizens to get covered and get healthy.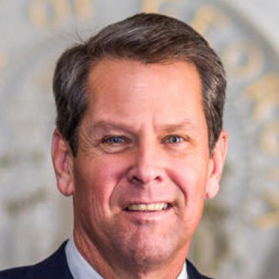 Governor Brian P. Kemp
Since taking office in January 2019, Governor Kemp has been committed to simplifying the health insurance enrollment process while expanding access to affordable options, so that every Georgian has more say in their healthcare.
Under Governor Kemp's leadership, Georgia has seen a decrease in premiums statewide and an increase in the number of plans offered across the State. Here's how the Governor has continued to serve Georgians:
Premiums have decreased an average 12% statewide. This represents an average of $850 in annual savings for Georgia families shopping on the individual marketplace.
Rural communities have seen the greatest impact. In rural counties where premiums are highest, premiums have been reduced from 25% to >30%.
More carriers are in the market. In 2019, Georgia had only four insurance carriers offering plans on the individual marketplace. For 2023, there are over twice as many.
Consumers have more options. In 2019, only 26% of Georgia's counties had more than one carrier offering insurance on the individual market. Now, 98% of all counties have more than one carrier, which means dramatically greater access in rural and underserved areas of the state.
Reduced premiums and expanded choice have led to increased enrollment. In 2019, only 373,049 Georgians were enrolled in individual market commercial plans. This has increased to 651,495 in 2022.
Learn more about Governor Kemp: gov.georgia.gov
The Office of the Governor: 404-656-1776